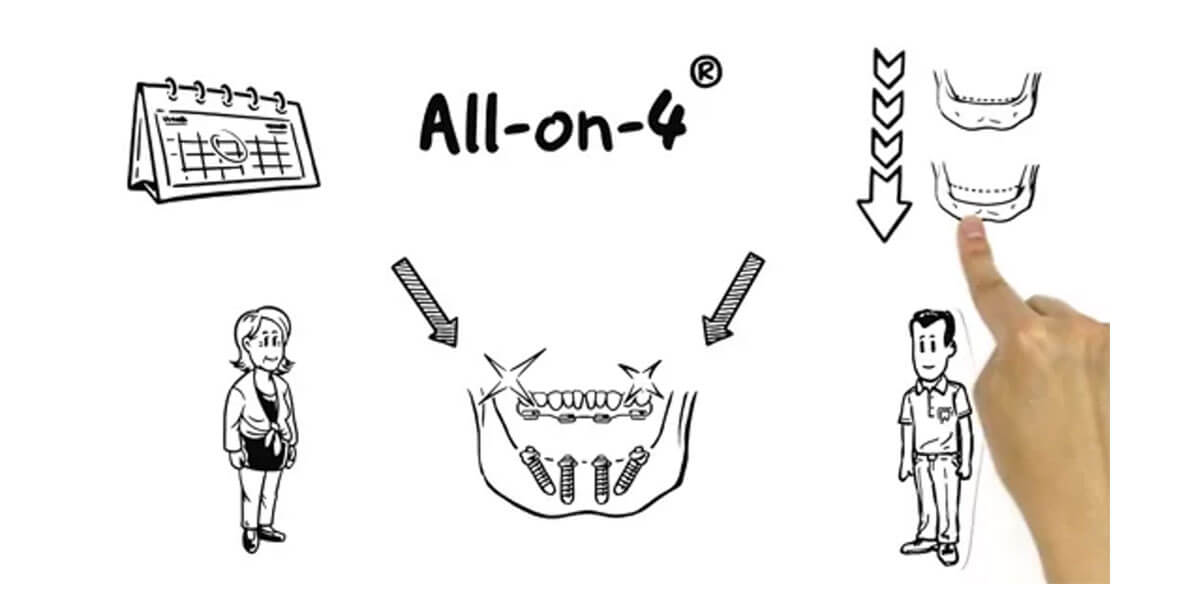 Teeth in a Day Procedures in Boston
Lucca Oral & Facial Surgery performs teeth in a day procedures in Boston, MA. Call 617-300-0345 to learn more and schedule an appointment.
If you are missing or will require removal of all of your upper and/or lower teeth, you can benefit from full arch dental implants to restore your full dentition. Replacement of all of your teeth can be accomplished in a few ways.
With the placement of 2 to 4 implants, dentures can be connected to a bar or special locators that help minimize movement of your prosthesis while eating and speaking. This type of denture is more retentive than a conventional denture, but it is designed to be removable.
Another way to rehabilitate a full arch of failing or missing teeth is with a collaborative team-based treatment strategy (sometimes known as "teeth in a day," "the All-on-4® treatment concept" "all on X," et. al.) where a fixed (not removeable) full arch prosthesis can be delivered with the look, feel, and confident function, of natural teeth.
Working with our trusted dental lab technicians, anesthesia providers, and your restorative dentist, our Boston oral surgery team and Dr. Lucca are expertly trained to deliver this transformative implant solution that allows the replacement of a full arch of teeth secured by four, six, or eight implants, in just one day. This technique creates a prosthesis that is fixed to the implants and eliminates the compromise of loose and uncomfortable removable dentures.
With an implant retained full arch restoration, there is no plate covering the roof of the mouth that can impair speaking and tasting food. Additionally, esthetics and function are more natural and comfortable. Patients do not experience the typical rocking and movement, or gum irritation, associated with conventional dentures.
Easy to care for, this type of restoration simulates the look and feel of natural teeth and stays fixed in place with the implants acting as anchors for new teeth. Patients can experience renewed confidence with speaking, eating, laughing, and smiling.
Full arch restorations can often be placed in one office visit. Dr. Lucca's talented team of lab technicians can be present on site during the procedure to provide a custom-designed, esthetic, functional, and immediate temporary prosthesis the same day as the implant surgery.
Dr. Lucca and our Boston oral surgeons will provide consultation utilizing our state-of-the-art technology to discuss in detail a customized full arch dental implant solution that may be right for you.
All-on-4® is a trademark of Nobel Biocare Services AG.
---