4 Myths About Dental Implants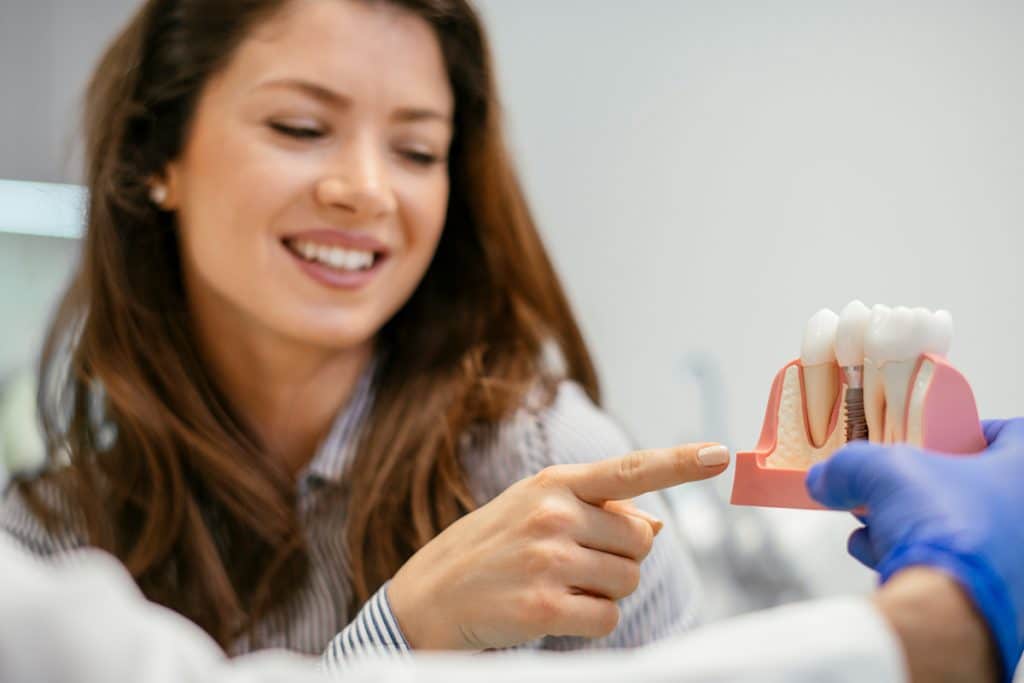 Dental implants are the highest quality dental prosthetics you can get. They have significant benefits over other tooth replacement options, yet not everyone chooses to get them when they need to replace one or more teeth. Why is this?
There are various myths surrounding dental implants that circulate despite their lack of validity, and these myths are preventing patients from getting the best dental care they can get. Consider the top four myths about dental implants and learn the truth behind the myth.
What Are Dental Implants?
To understand the myths and facts about dental implants, it helps to know what they are and how they work. A dental implant is an artificial tooth root made of titanium that is surgically placed in the jaw. The implant fuses with the bone in your jaw to form a solid bond that is the best long term solution to replace teeth.. Dental implants provide support for dental prosthetics in the form of crowns, bridges, and dentures.
Myth #1: Getting Dental Implants is a Long Process
One myth about dental implants is that the process of getting them takes a long time. The fact of the matter is that dental implants cannot always be placed in a single day, but sometimes they can. The traditional process involves multiple appointments. During the first appointment the implant is placed in the jaw. The next step is to wait a few months while the implant fuses with the bone. Then an abutment is added to the implant which connects to the prosthetic. The final step is to attach the prosthetic, and then the process is complete.
In most cases this takes a few months overall. In some cases it can be done in a single appointment. The length of the process depends on a variety of factors including the type of implant and prosthetic you are receiving, the current condition of your jaw and your oral health, and the technological capabilities of your oral surgeon. If time is an important factor for you, discuss this with your oral surgeon and a treatment plan can be created that will suit your needs.
Myth #2: Dental Implant Placement Hurts
Dental implant placement is a surgical procedure, which makes some patients worry that it will be painful. As with any oral surgery, various forms of anesthesia are available to make the experience as comfortable as possible. In most cases dental implants can be placed with just local anesthesia. For patients who feel anxious or nervous about the procedure, additional sedation options are available, including nitrous oxide, IV sedation, and general anesthesia. Talk to your oral surgeon about your concerns and a plan can be made to ensure your dental implant placement is a comfortable, stress-free experience.
Myth #3: Dental Implants Look Fake
Another myth about dental implants is that they don't look realistic. However, with today's technology, dental prosthetics look more natural than ever. And because of the way dental implants are anchored in the jaw like a normal tooth, they provide a more natural appearance than other types of prosthetics, such as traditional bridges and dentures.
Dental prosthetics are most commonly made of porcelain because it resembles the texture and finish of natural tooth enamel. It can be made to match the color of your existing teeth with amazing accuracy. Implant supported dentures look more natural than traditional dentures because they don't slip out of place when eating and talking and because they are not attached to a more common type of denture acrylic base.
Myth #4: Dental Implants Are a Waste of Money
There is a higher cost associated with dental implants over other tooth replacement options. This is because they are higher quality and last much longer than traditional dental prosthetics. Some patients may think that the cost is a waste of money, while others have experienced the natural function and appearance of dental implants and understand the value.
Dental implants have a 98% success rate when placed by an experienced oral and maxillofacial surgeon and they can last many many years. Investing in dental implants is a worthwhile, long term investment in your dental health.
Lucca Oral & Facial Surgery Provides Dental Implants
If you're interested in learning more about dental implants, Lucca Oral & Facial Surgery specializes in dental implant placement. We are glad to address your questions and concerns to help you make an informed decision about your dental health. Numerous satisfied patients would tell you that dental implants were a worthwhile investment in their smile.
Call 617-300-0345 or contact us today to learn more and schedule an appointment.
Recent Posts
Contact Us
Lucca Oral & Facial Surgery
185 Dartmouth St, Suite 403
Boston, MA 02116
Monday | 8:30am - 5:30pm
Tuesday | 8:30am - 5:30pm
Wednesday | 9am - 1pm
Thursday | 8:30am - 5:30pm
Friday | 8:30am - 2pm
Saturday | Closed
Sunday | Closed